DURING A TYPICAL episode of Queer Eye, one would be led to believe that the Fab Five have perfect chemistry and are the most naturally cohesive group of friends you'd ever come across.
In reality, their friendship looks a bit like this: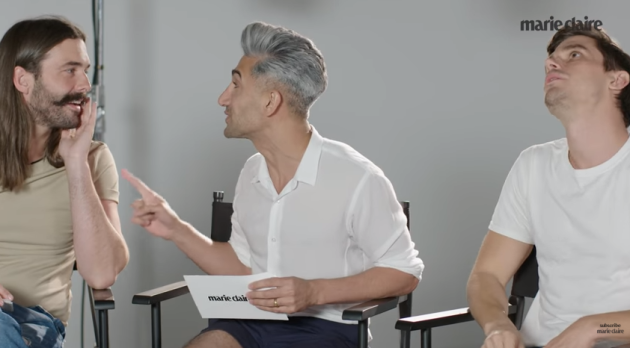 Marie Claire / Youtube Marie Claire / Youtube / Youtube
In a new interview with Marie Claire, the five men split up into two groups (Jonathan, Tan and Antoni, then Karamo and Bobbi) and separately played 'How Well Do You Know Your Co-Star?'
Tan asked the first question:
I grew up helping my grandparents' business every summer. What was their business? A bakery that made meat pies, a shoe repair shop, a factory that made denim for Disney or a millinery?
Jonathan guessed that it was a millinery, and Antoni seemed sure it was a bakery. Tan's response?
I always knew that you two were so f**king self-absorbed – because you got it wrong. I've said it a thousand times to you, you never listen.
I have told you this story a couple of times. Do you know earlier when you said I tell the same stories again every now and then? It's because I know you didn't listen the first two or three times.
Jonathan then pointed to his jeans and asked "How are you going to come up here on Marie Claire DOT COM and call me out for not knowing your family made jeans, when I had to buy these?"
Marie Claire / YouTube
They went on to discuss Antoni's list of appearances on IMDB and Jonathan's obsession with Hanson.
This is the thing about Hanson, I was not your normal Hanson fan, honey. Do you know who I had it out for, more than anyone? I didn't have time for Tay and then Zack was too young for me… That Isaac honey.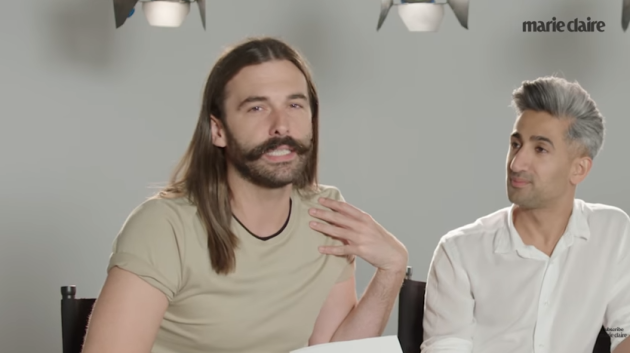 Marie Claire Marie Claire
I was like you better Mmmbop over here and hold me in this Midwestern town, I'm so alone. All my bedroom was everything Hanson. Posters everywhere. My only girlfriend I ever had, her name was Bri, came over to my house and she went into my bedroom and she was like…
When it came to Bobby and Karamo's attempt, they actually did a much better job.
It also turns out that Bobby had built up quite a rapport with RuPaul before he was on TV. Not on the gay scene, but through regular visits to a hardware store.
Marie Claire / YouTube
DailyEdge is on Instagram!