SISTER SISTER EAT your heart out: Tia and Tamera ain't got nothin' on Samantha and Anais.
The girls were adopted and raised on different continents but reconnected by chance through a YouTube video last year.
Now they're asking the internet to help them raise $80,000 so they can finish a film that tells their incredible tale.
French fashion student Anais was living in London when her friends spotted someone who looked rather like her in a short video and immediately decided to do some detective work.
Within weeks they found out that the girls shared the exact same date of birth and discovered  that the mysterious young lady was also adopted.
samfuterman
So, Anais decided to take a leap of faith and send a Facebook message that would change both of their lives.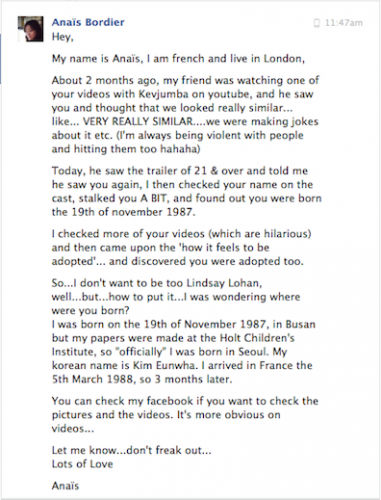 KickStarter KickStarter
The girls launched a Kickstarter campaign back in February 2013, in the hopes of documenting their efforts to discover if there were indeed twins.
They raised a staggering $43,000 before flying to London to meet and begin a rather special journey on camera.
samfuterman
The girls have now taken to Kickstarter once again to reveal that they need a little more help to complete their film.
With every life-changing moment caught on camera, we need additional funds to put all of the pieces together in post-production… Our goal of $80,000 is the bare minimum we need in order to complete the film. Anything more will grant us access to the best resources available so we can tell this story as it deserves to be told. We will be in post-production 8-10 hours per day for another 8 months, with a finished film ready to submit to the 2015 film festivals.
Will their extraordinary story have a fairy tale ending?