YOU MIGHT HAVE had a crazy week, what with Christmas speeding by and everything, but you can never have too much of a crazy thing. Right?
So if you haven't filled your head with as much crazy stories as you have filled your belly with food, then you're in the right place. DailyEdge.ie has once again hunted high and low all around the weird, wonderful, wild, worryingly wet web to bring you the week's most bizarre news stories. Drink it all in.
An NYC transbit hub has released its end-of-year lost and found items – including a list of the weirdest things that have been left behind on public transport. The items include a pet bunny, a prosthetic leg, a car bumper, a tuba, a diamond ring and an "ordinary-looking briefcase that was opened to reveal a dizzying array of adult toys". We'll never look at businessmen on the commuter train in the eye again. (AP)
A swarm of biting fish has injured more than 70 Christmas bathers in Argentina. The fish is a relative of the pirhana called the "palometa". The director of emergency services in the city of Rosario, Mr Federico Cornier, said "This is not normal… The magnitude in this case was great. This is an exceptional event." Imagine that happened at the 40 Foot? Pandemonium. "Nippy" doesn't cover it. (Reuters)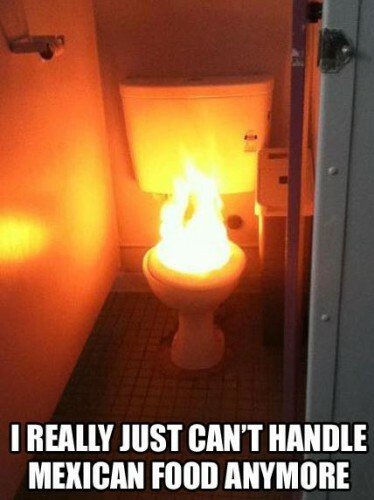 The Meta Picture The Meta Picture
London Fire Brigade have released the weirdest causes of fires in 2013 in the English capital. Their findings include a teenage boy who set his deodorant on fire before heading out on his first ever date, a pigeon that dropped a lit cigarette down a chimney, and a man who microwaved a toilet roll to dry it out. Now not only do you have to worry about leaving the oven on, but arson-bent pigeons. Great. (DailyEdge.ie)
A Seattle girl has escaped injury after her glasses deflected a speeding bullet. The 16-year-old girl was asleep in her front room when shots were fired by a passing sedan. She only suffered minor injuries, as the bullet struck the bridge of her glasses. Police believe it was gang-related and the girl was not the intended victim. Now we know why Clark Kent wore specs, eh? EH? (Reuters)
A cab driver in Las Vegas found $300,000 (€217,438) in his backseat – and handed it in. Gerardo Gamboa initially thought someone had left "a bag of chocolates behind" but it turned out to be cash. Beautiful, fragrant cash. He has been rewarded with $1,000 and a dinner for two for his honesty, as well as being named Yellow Checker Star Transportation's driver of the year. Mmm. Nice and all, but not quite the $300,000 in cash, is it? (AP)
My Confined Space My Confined Space
Scientists in China have injected glow in the dark piglets using jellyfish DNA. The little piggies glow green under black fluorescent lights. They aren't just creating little glow-pigs for kicks though. The goal of the research is finding an efficient, cheap way of getting a gene into humans that could help treat various genetic disorders including blood-clotting disease haemophilia. We don't buy it though. It was definitely just for the glow-pigs. Glow-pups next please! (PS, don't worry. The glow-pigs are fine and have the same lifespan as boring old non-glowing piglets.) (Huffington Post)
A woman in New Zealand claimed to be Kate Middleton, Duchess of Cambridge, after crashing her car speeding down a one-way street. The 44-year-old woman apparently rolled the car before trying to persuade police that she was a Royal. She should have claimed to be that scamp Prince Harry. More believable. (Mirror)
Pssst. Spotted any wacky news in your local area? Let us know on fiona@dailyedge.ie or below in the comments if you'd like to see your name in lights. It could be you!