WELCOME TO THE Weird Wide Web – where we take a look at some of the internet's best offerings in social media, tech, science and weird news.
Here comes the baby. Quick, take a picture…
And we're not talking about after the birth either, but of paying someone to photograph the actual birth, warts and all (and other stuff).
According to the Canadian Broadcasting Corporation (CBC), business is starting to boom (every pun intended) for the latest thing that can be shared using social media, with so-called 'birth photographers' charging between $500 to $2,500 for the privilege of being at the wrong end of the delivery table.
"Some people want all the gory details but most don't," says photographer Jaydene Freund told CBC. "They want to be able to share these photos with their father-in-law so I'm discreet about shooting body parts and creative in hiding nudity."
As if having children wasn't expensive enough.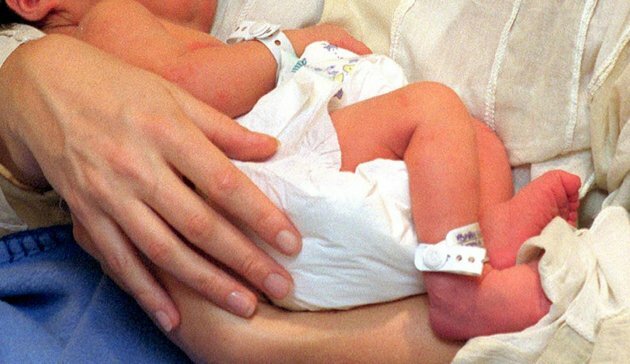 Pictures such as this are taken far too late for some people, apparently. (Fiona Hanson/PA Wire)
Rent-to-own laptops
We're not aware of the ability to rent a laptop in Ireland and, based on this story, it's probably for the best.
This week, the Federal Trade Commission (FTC) in the US forced several companies to remove spyware that they had pre-installed prior to renting them out to customers.
So what was the software capable of doing? Lots of things it shouldn't have, according to this release from the FTC:
When Detective Mode was activated, the software could log key strokes, capture screen shots and take photographs using a computer's webcam, the FTC alleged.  It also presented a fake software program registration screen that tricked consumers into providing their personal contact information.
Ewwww.
So what does two years of cloud cover look like?
We're glad you asked! Some clever clogs over at Chrome Experiments were obviously wondering too. For the answer, click here.
All that glitters…

With the iPhone now in the hands of many, reports have started to come in about the ease in which it can pick up scuffs and scratches.
While Apple's choice of aluminium means that it saves on weight, it's much softer than steel. A process called anodization is performed, however, in order to make it stronger.
How is it done? Find out below.
This video contains the American pronunciation of aluminium several times. You have been warned.
(engineerguyvideo/YouTube)
This is the police, log out of that Facebook account NOW
While police in Pittsburgh may not find themselves shouting that exact line anytime soon, they are set to learn more about social media and how it can help them do their job.
The call for social media training came this week after a hostage's Facebook account was used by the hostage-taker to post messages about his motivations for doing it, which police believed prolonged the stand-off.
When can closing down one of your own shops increase sales? When you do it on a reality TV show, of course.
While the UK version of Undercover Boss has been a hit of late, the US version tends to offer a little bit more drama.
Take, for example, Rick Silva, the CEO of the US fast-food chain Checkers. When he discovered how one of his shop managers was treating his employees, he shut it down on the spot.
Far from the disaster it may have been, the move proved fruitful. He now reckons the show gave the chain the equivalent of $20 million in free advertising, with sales since the incident up over five per cent.
(funnychannel4u/YouTube)