YouTube YouTube
WE MAY THINK we're pretty detached from the rest of the planet on our island in the sea, but in the run up to the same-sex marriage referendum, the world has been watching.
Irish people (and not so Irish people) are spreading the Yes campaign's message wherever they can – and it's been heard everywhere from New York to Perth.
Stephen Fry and a host of other TV personalities have said Yes
Andrew Nolan / YouTube
Irish comedians Jason Byrne and Aisling Bea got Fry, Jimmy Carr, Trevor Noah and Jack Dee (amongst many others) to ask the Irish people to support a Yes vote.
Star Trek actor George Takei was snapped with a Yes Equality sign in New York
Sir Ian McKellen also had a message for Ireland
And our own Graham Norton has been flying the flag over in Britain
Irish people in the Big Apple have been sharing their support
Facebook / Irish YesEquality NYC Facebook / Irish YesEquality NYC / Irish YesEquality NYC
As have those in London
And Canada
And Boston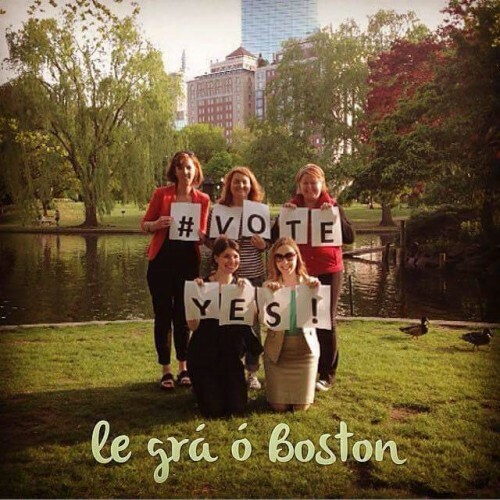 Danny Hennessy Danny Hennessy
And Australia, too
This gang even broadcast it from the salt flats in Bolivia
Joey Kavanagh / YouTube
Has the Yes campaign got almost all the four corners of the world covered? Looks like it.