Instagram / kimkardashian Instagram / kimkardashian / kimkardashian
JUST OVER A week ago, Kim Kardashian was tied up and robbed at gunpoint in her Paris hotel room, with the masked thieves making off with $10 million in jewellery.
Now, a Californian costume company Costumeish has turned the real-life incident into a 'tasteless' Halloween costume.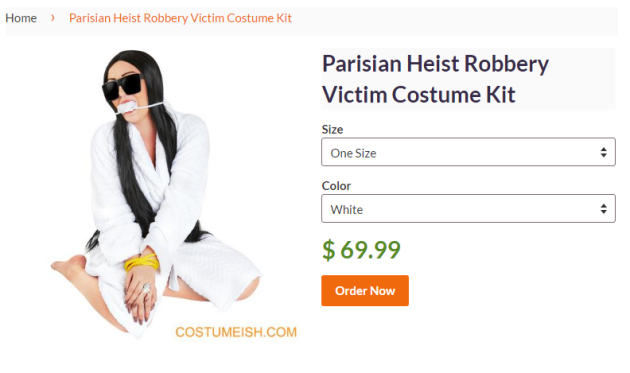 While Kardashian isn't explicitly named, the manufacturers make it perfectly clear who the 'Parisian Heist Robbery Victim' is:
She has devoted her life to promoting American decadence, youth and hedonism but all that flashy living caught up with her one night in Paris when armed men bound her, stole her jewellery and her peace of mind.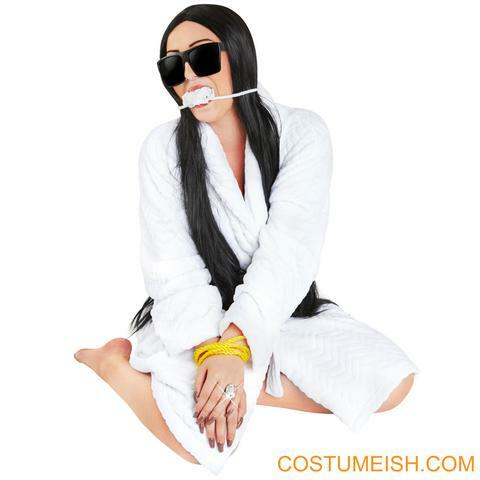 Shopify Shopify
The $69.99 kit comes with a 'short sexy robe', a black wig, sunglasses, a '$4 million ring', and chillingly, a rope and a gag.
Since the kit came to light, the website has been bombarded with one-star reviews:


Others have labeled the costume 'sick and twisted':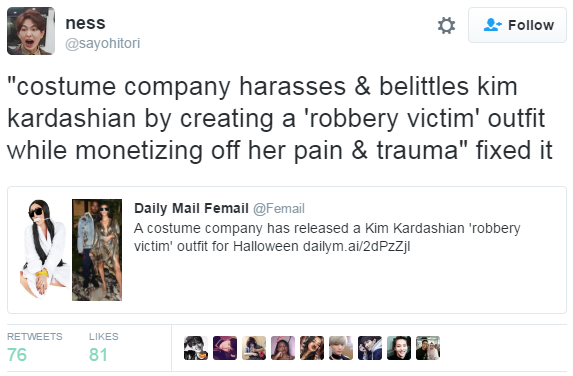 Twitter / @sayohitori Twitter / @sayohitori / @sayohitori
This comes hot on the heels of Khloe Kardashian revealing that her sister "isn't doing that well" after the robbery – speaking to Ellen DeGeneres on her show, she said:
It's incredibly traumatic what happened to her, but our family is super close and great and we'll get through it together.
The Vice President of Costumeish has defended the kit, telling Buzzfeed that Halloween is "a light-hearted, spirited party".
People should be able to laugh at it… We haven't sold any yet, if that matters.
DailyEdge is on Snapchat! Tap the button below to add!