THE MTV MOVIE Awards take place tonight in Hollywood (and air here tomorrow) and promise to be as gaudy, hilarious and entertaining as ever.
The show doesn't take itself as seriously, with Transformers and Twilight the kind of flicks to pick up multiple awards.
They also have categories you don't get elsewhere, such as Best Fight and Best Villain.
Our favourite is undoubtedly Best Kiss because it awards our favourite thing in most Hollywood flicks, over the top screen kisses.
And usually the winners accept the award in hilarious ways.
We've gone through the last 20 years of the MTV Movie Awards to provide you with some of our favourite Best Kiss moments.
1992 – My Girl
The first ever MTV Movie Awards in 1992 awarded My Girl the Best Kiss trophy and can you blame them? Too cute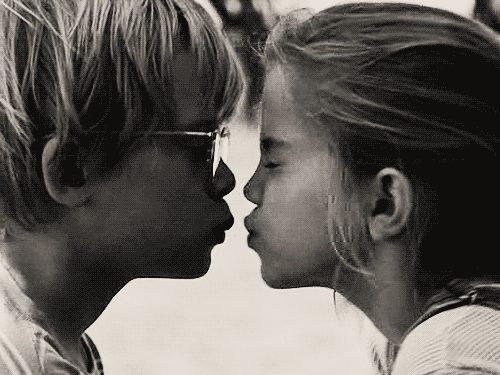 Let Us Dream Beyond Infinity / Tumblr
1995 – Dumb and Dumber
This 1994 comedy hit included that hilarious kiss between Jim Carrey and his then wife Lauren Holly.
On accepting the word they were plenty flirtatious with Lauren Holly chatting about how Jim was in bed. Ah here.
ozvault1/YouTube
2000 – Cruel Intentions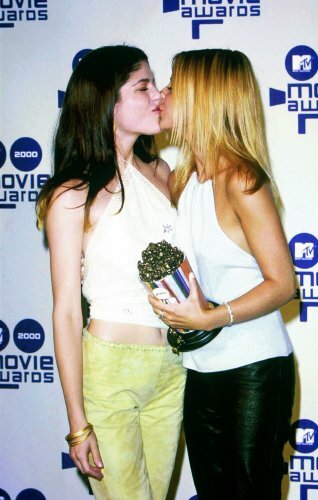 /EMPICS Entertainment
This soapy teen drama was a hit at the time for it's raunchy dialogue and teens behaving badly plotline.
The most infamous moment was Sarah Michelle Gellar's bad girl Kathyrn teaching Selma Blair's naive Cecile how to kiss.
It was a big hit with fans who awarded it Best Kiss at the 2000 ceremony and the girls completely tease the crowd while accepting the award. Minxes.
JaniCKAdP / YouTube
2003 – Spider-Man
We don't blame MTV fans for awarding the famous upside down kissing scene from Spider-Man really
OriousCat / YouTube
Mind you we were also fans of when Summer and Seth recreated it on The O.C.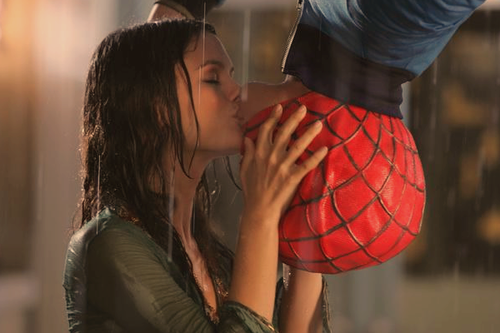 Love In A Carolina College / Tumblr
2004 – Starsky and Hutch
Carmen Electra accepted a trophy for her threeway kiss with Amy Smart and Owen Wilson in Starsky and Hutch (probably the only award that movie won)
She even gave Paris Hilton a quick kiss, something Snoop Dogg seems fairly happy about: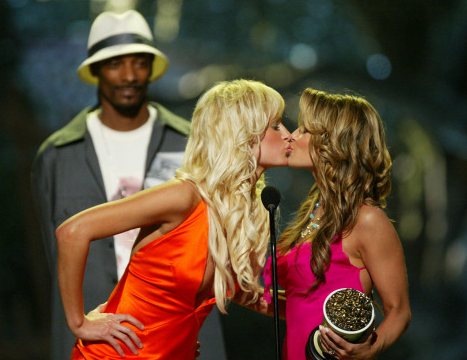 Image via MTV
2005 – The Notebook
It's made many people swoon over the romance of it all so it's not a shock to see that Ryan Gosling and Rachel McAdams walk away with a Best Kiss trophy at the 2005 awards.
What was a surprise was their spirited re-enactment of the kiss live on stage.
Amazing
lilwiloughby121 / YouTube
2006 – Brokeback Mountain
It's nice to see it's not all over-the-top on stage kisses and Carmen Electra in 2006 the MTV fans awarded Heath Ledger and Jake Gyllenhaal's kissing in this cowboy love story a gong.
Jake had to accept the trophy on his own but he got to meet Eva Mendes and seems pretty happy about it.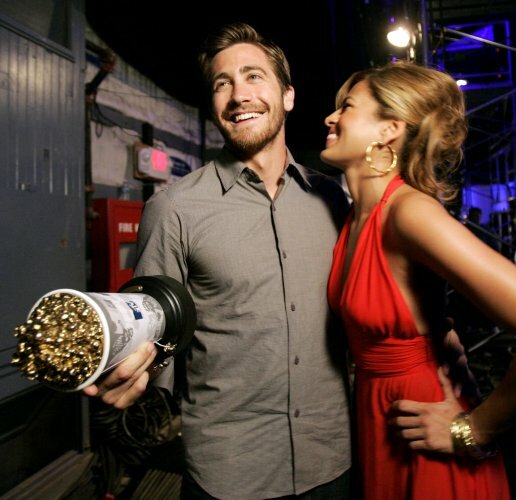 KEVORK DJANSEZIAN/AP/Press Association Images
2007 – Talladega Nights : The Ballad of Ricky Bobby
This Will Ferrell vehicle featured an over the top liplock with Sacha Baron Cohen which they happily redid on the night.
They got pretty into it: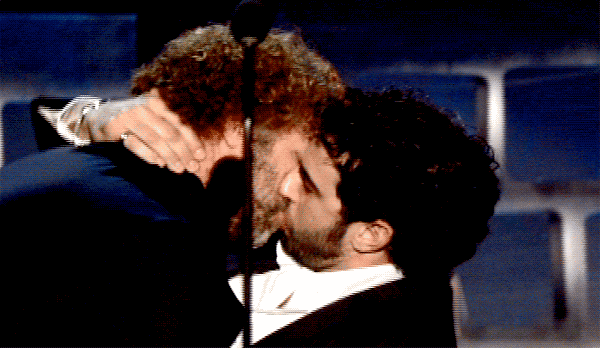 via MTV
Like, really into it: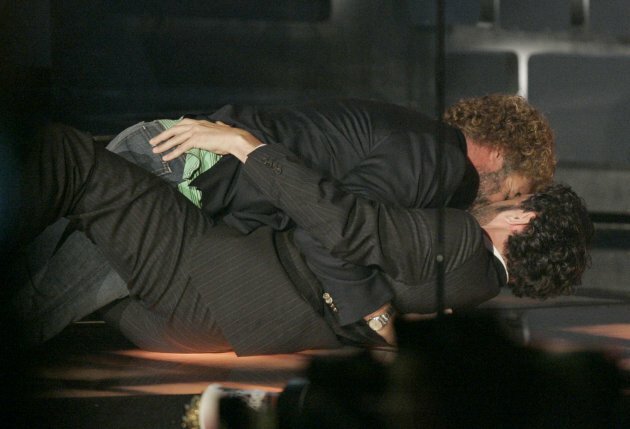 Mark J. Terrill/AP/Press Association Images
2008 – Step Up 2: The Streets
We are partial to the silly but brilliant world of the Step Up movies and we're not surprised that rain-soaked snog after the film's climatic dance battle impressed MTV viewers.
Also Briana Evigan and Robert Hoffman accept their award with the kind of live kissing gusto that would put many A-listers to shame. Fair play.
The cut to Hilary Duff's unimpressed face at about 32 seconds is also quite funny
leeesuhhh1993 / YouTube
2009 – 2012 Twilight
Well, not content with making lots and lots of money at the box office the Twilight series also dominated the MTV Movie Awards including the Best Kiss category.
In 2009 when fans were just getting to grips with Bella and Edward fever Kristen Stewart and Robert Pattinson they did this suitably awkward kiss tease that surely left scores of teens absolutely raging
TwiVidBlog / YouTube
2010 saw them try it again and making it awkward again.
We mean this is never a good thing to have happen with a lady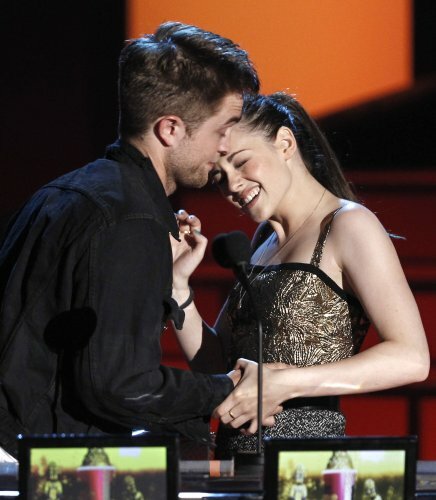 Matt Sayles/AP/Press Association Images
Stop making this so AWKWARD you guys:
Matt Sayles/AP/Press Association Images
2011 saw Rob Pattinson run into the crowd and kiss co-star Taylor Lautner instead.
Poor K-Stew can't catch a break:
ykeniaas / YouTube
And last year saw the final best kiss nomination for the series which poor Kristen Stewart had to accept on her own.
So, left to her own devices what does Kristen do?
The "I'll just turn around and pretend to kiss someone smaller than me" trick that's what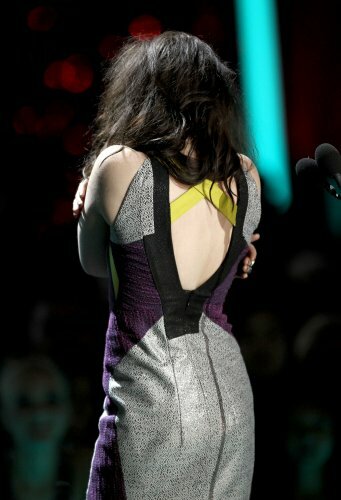 Matt Sayles/AP/Press Association Images