WATCHING RTÉ'S GANGSTER drama Love/Hate is going to do nothing for a bad dose of the fear on a Sunday night, but it has become compulsive viewing.
After episode one in this series saw IRA man Git meet a grisly end (and the business end of a beer keg), and episode two saw Darren making Bambi eyes and Nidge getting into some trouble, things were about to heat up.
So, what did we learn from episode three?
1. Nobody could wait to watch it
"READ THE NEWS FASTER", we screamed at the telly as the time for Love/Hate approached.

(@anniewestdotcom)
2. Nothing beats a good post-methadone fry up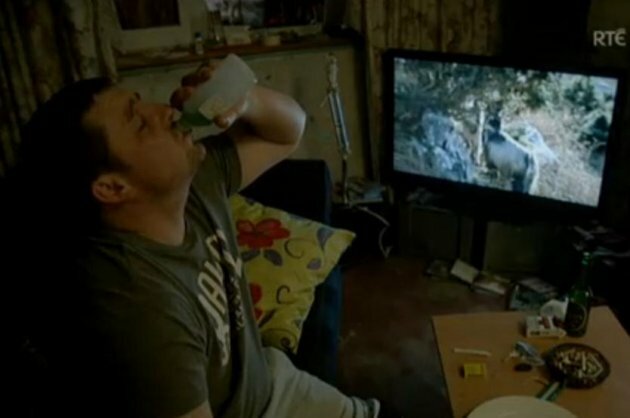 "Refreshing"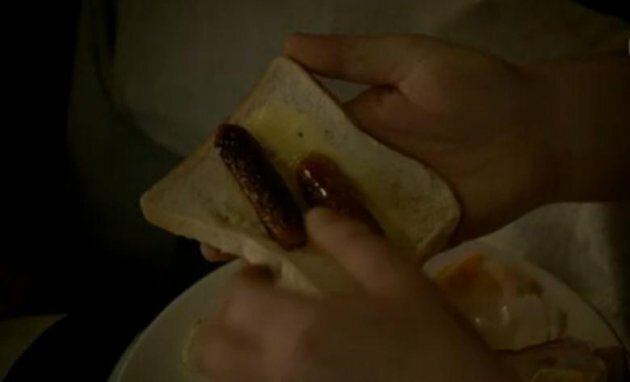 "Delicious"
3. The Luas makes a great getaway car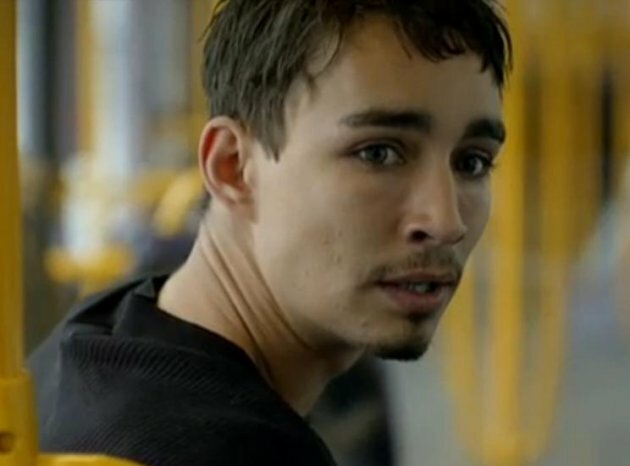 "Ting ting"
After Darren led some coppers on a wild goose chase through some of the half-finished building relics of Celtic Tiger Ireland, he eventually hopped onto a waiting Luas to make his getaway.
Would have been an absolute stinger if he'd been done for having not ticket after all that.
Nidge also voiced his approval on Twitter after Darren's nifty footwork:

4. Nidge is terrible at parking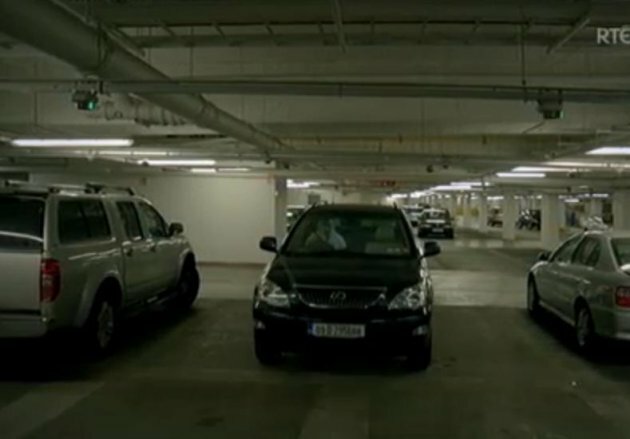 Look at him taking up two spaces. Selfish.
4. Nobody wants to f**k a fat rabbit
According to Donna:
…you have to be f**king skinny to go [to Siobhán's fancy dress birthday party] as a rabbit. Who wants to f**k a fat rabbit?
5. It's ok to bring your baby to a brothel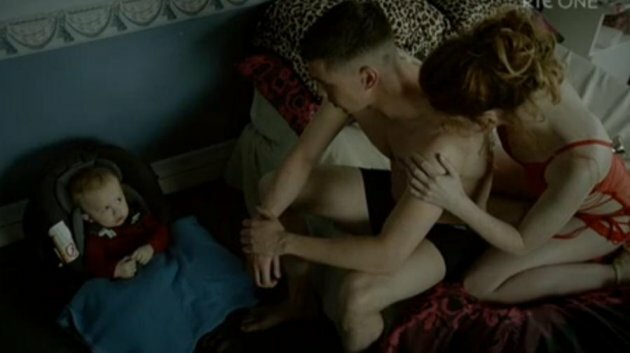 Tommy says he "knows it's not cool" to bring your baby to a brothel, but he still did it, didn't he?
Look at that baby's face. He's morto.
6. You can tell Donna anything…
… and she'll take it to the grave. So you go ahead and confide in her Siobhán.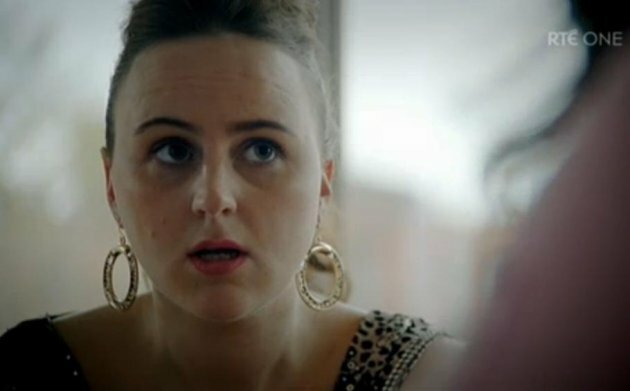 "I won't tell a soul". We'll see about that, shall we Donna?
7. Nidge loves a bird in a tracksuit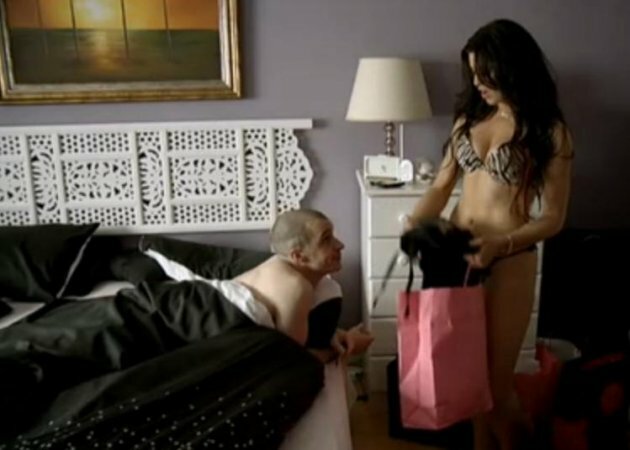 "J-Lo wears them"
Nidge's missus Trish accuses him (while prancing around in her smalls, as usual) of "going around like a grumpy dwarf", so the old romantic pulls out a present…. A TRACKSUIT.
8. Love/Hate don't need no Maroon 5

(@KCTodayFM)
9. A ladybird can be confused for a dirtbird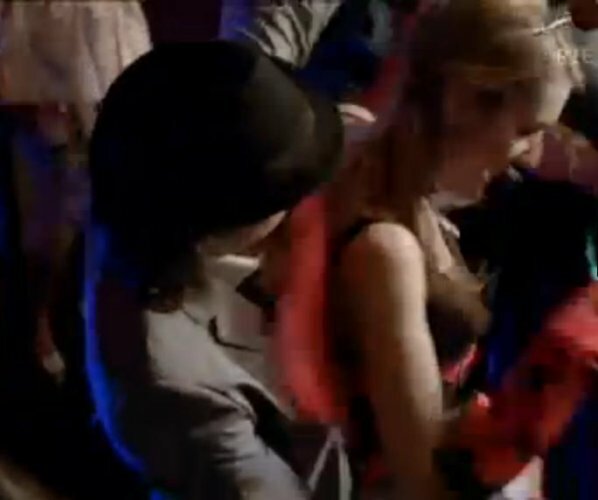 Poor old Fran finds it hard to tell the difference:
Are you a regular ladyburd or a duuuurtburd?
10. Nidge has a serious jones for Dano's missus Georgina
He keeps trying to lob the gob on her: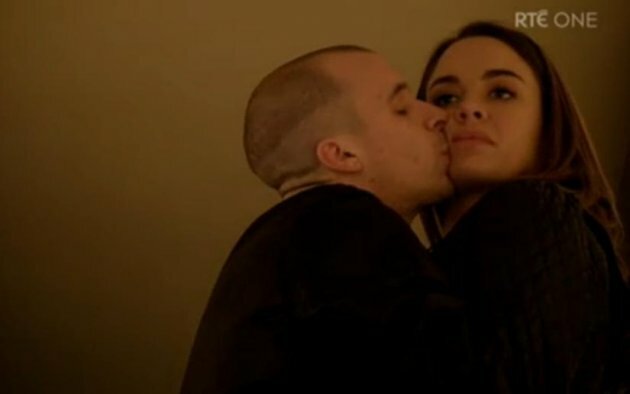 11. Donna can't keep her mouth shut
After taking Fran as a lover (while dressed as one of the blue folk from Avatar) Donna tells him what Siobhán told her about what happened to her on St. Patrick's Day.
All together now:

(@VickiNotaro)
12. Everyone fancies Darren, and the way he might look at you
13. Tommy is an awful divil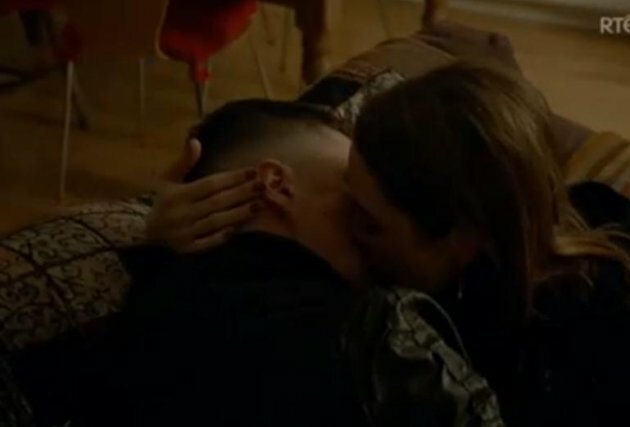 Yep, that's the same Tommy that brought his baby to a brothel, getting it on with Dano's missus Georgina, while Dano is asleep upstairs.
14. This man has no qualms about hitting a woman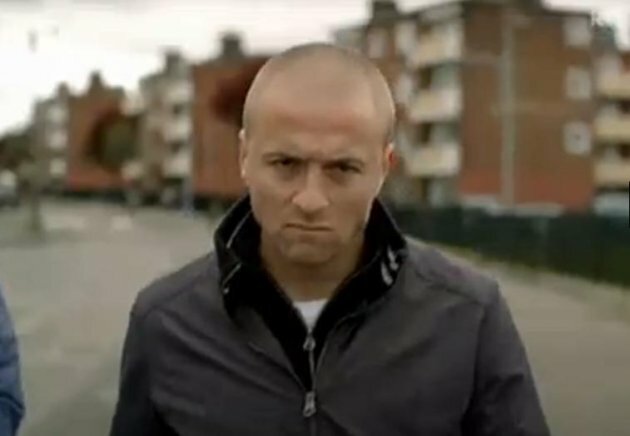 Dano knocks Elmo's missus to the ground with a punch, breaking her nose, in one of the episode's most shocking moments. Charming.
15. It's hard to shoot someone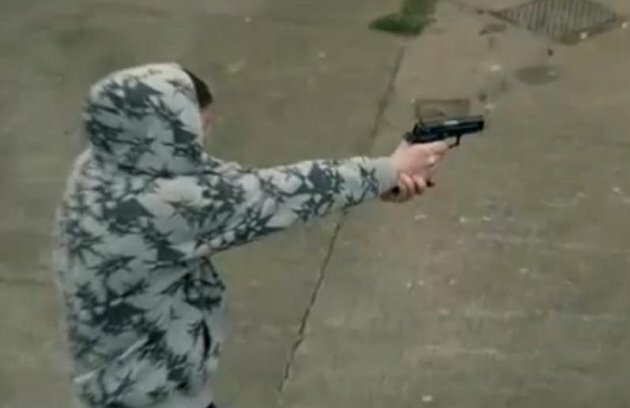 This lad arrives on a bike to shoot Darren, but despite being right in front of him, and firing off five or six rounds, he fails miserably.
Darren and his smouldering eyes live to fight another day.
16. Don't cross Nidge. Ever.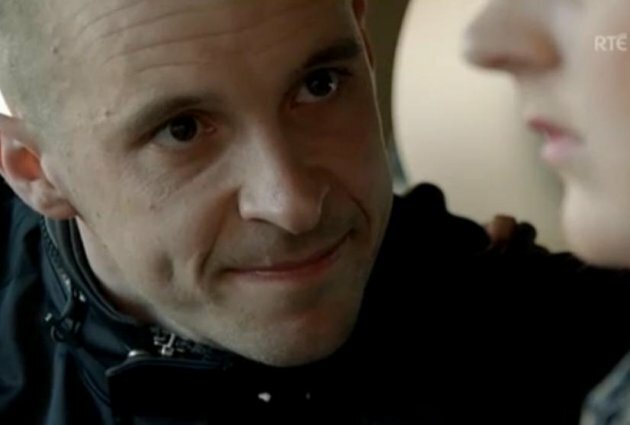 After finding out about Donna blabbing to Fran, Nidge says he will "personally spray her face with acid" if she opens her gob again.
Images: RTÉ Player
Next week: Does Darren get pinched, or shot? And perhaps we'll see Nidge trying to lob the gob on Georgina again. But she only has eyes for Tommy. Danger here.